Peavy™ Rugs & Tapestries
PEAVY™

Handwoven Rugs & Tapestries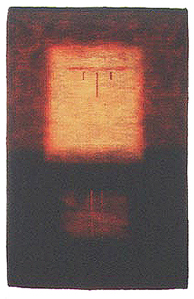 Intrusion, wool, 4' x 6' Private Collection Sold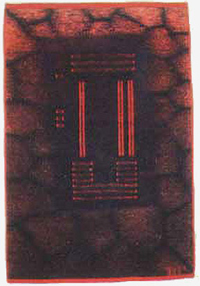 Cinder Path Prayer Rug, wool, 4' x 6' Private Collection Sold Contained Fire, wool, 4' x 6' Private Collection Sold
Ocean Floor, wool, 4' x 7' Neiman Marcus Collection, Honolulu, HI Sold Retaining Wall Prayer Rug, wool, 4'x8', Hawaii Foundation for Culture and the Arts Collection Sold

The artist hmpv has been designing and weaving rugs and tapestries off and on for over 40 years. He was introduced to a floor loom & weaving while studying art in San Miguel de Allende, Mexico the summer of 1972. This winter 2019 he introduces his line of Ghost Rugs™ that are re-designed and dyed vintage oriental rugs.

The artist also repairs & hand washes oriental rugs & carpets.

*PEAVY™ Collection are from drawings using
Twig Pencils™.